Water : a technological and artistic game : a passion
In my constant search for new ideas, backed up by over twenty years of studies and work in the world of water, I want to transcend the limits of my artistic work.
Everything inspires me and drives me to develop new techniques related to water and the four worlds I depict in my creations: fountains, aquariums, garden ponds and swimming pools.
I put my rigour and perfectionism at the service of all the excitement and magic of the aquatic realm. It impels my work as "Water landscape designer" towards new horizons. Light, sound, home automation, the design and quality of materials are a few of the possibilities I have to offer.
Here are some of the paths I'm currently exploring in my work…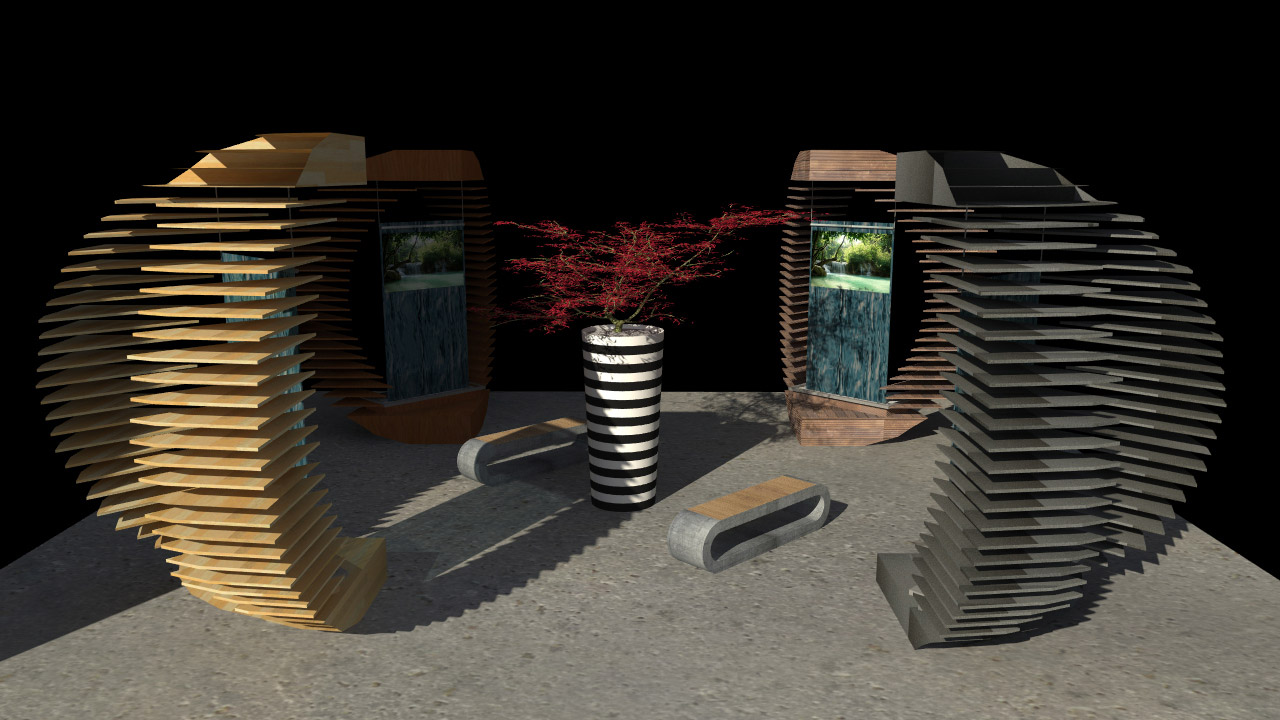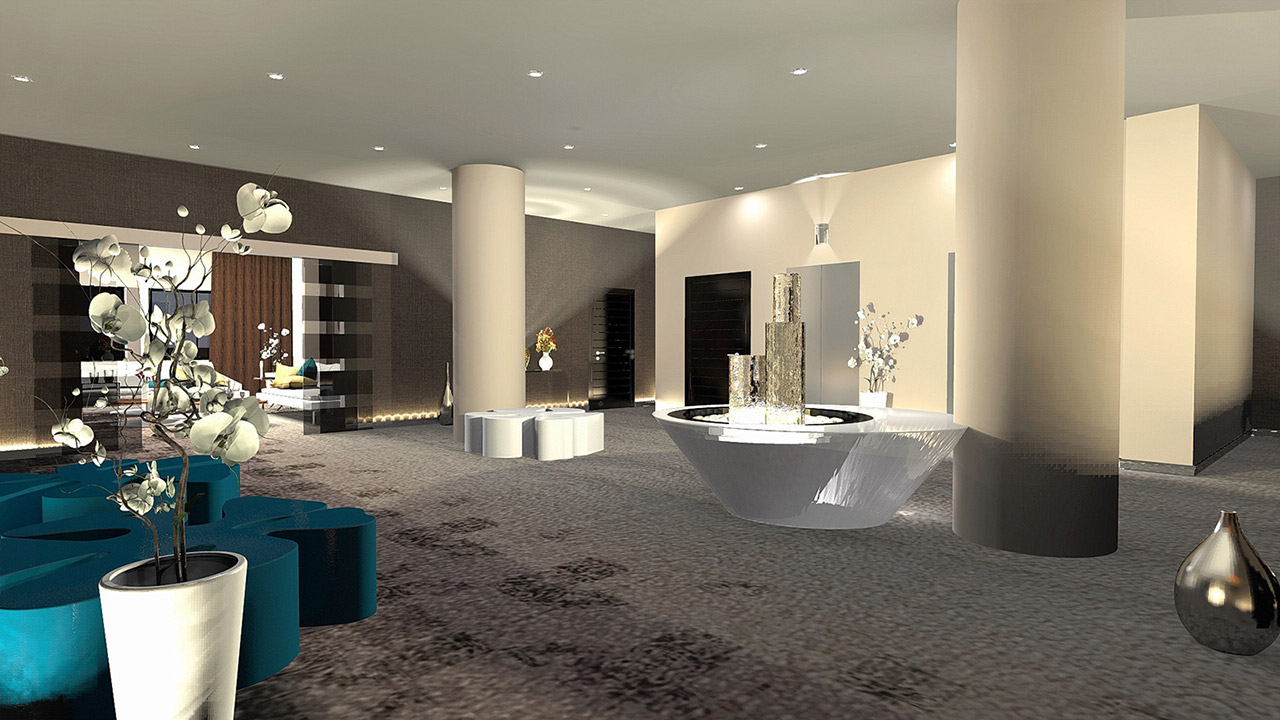 Future project
As an established creator and professional, i develop unique and unusual projects in my design office.
These are always executed based on a hydraulic principle : surface flow, water overflow, pressure or flow rate.
Then i use this aquatic base to create a line or shape, with premium materials and high-quality professional equipment, to transform the appearance without becoming superfluous and "ensuring balance", as i learnt from my friend and architecture teacher Roland Estellat.
Always seeking to go one step further, my projects look to the future by integrating technology in the service of tranquility and aesthetics.
I also take pride in ensuring that my projects are long-lasting and thus very elaborate as regards their systems for water treatment, filtering, filling, etc.
Here are some 3D views of my future or current creations.
Technical research and development
> Fibre optics and water
Accuracy of the light output, but also diffusion on the edge and length of the thread. These are some of the possible combinations with water.
Thin as a thread, with a diameter as small as a pencil lead, this futuristic lighting is very good at transmitting colour. Combined with home automation, it offers infinite possibilities for colouring a body of water such as a pool, fountain, water jet or cascading water sheet.
Especially known for the starry-sky principle in architecture, it is in the evening that these living fireflies of light can be truly appreciated.
I am currently working on the possibility of transmitting and amplifying the magic of this light in my "Fil d'eau" concept. Coming soon…

> Music and sound by material transmission with water
My desire to accompany the trickling sound of water with music has driven me to include sound invisibly in my aquatic projects. I have built in speakers that propagate the sound through the material, which itself becomes a speaker.
The "Sitting Zen" was the first prototype of fountain to develop this avant-garde sound engineering method, combined with light by home-automation management and sensors.
The music harmoniously follows the rhythm of the light and the water.
Controlled by your smartphone using a Bluetooth application, you can start the music whenever you want, amplifying the sensation of well-being. The whole fountain becomes music, with a very pure, very high-quality sound precision.

> Home automation and the comfort of water landscape design at the center of your life
What could be more ambitious than seeking to match the rhythm of your life with the rhythm of nature?
My fountain, garden pond or aquarium creations can be programmed in this way, in what people now refer to as "smart homes". These are true connected objects.
> Imagine waking up in the morning to the sound of trickling water from your fountain, which starts up as your blinds open, all thanks to home automation
> In the evening, when you step outside, the Koi pond lights up in your garden thanks to a presence sensor, with the waterfall starting up immediately afterwards.

> Management of my creations by a smartphone app
Every aquatic project can be created and developed with more powerful controls than a simple on/off switch.
This allows you to manage all the functions that my projects have to offer. Here are some examples:
> RGB W colour change,
> remotely managing the temperature or other parameters of the aquarium,
> scheduling the starting and stopping of the creation,
> programming or controlling the rinsing of the filter.

> Physical chemical balance of the water in eco-friendly mode
The treatment products selected for the maintenance of my fishponds or fountains try to be environmentally friendly and to minimise harm to the aquatic environment.
Furthermore, plants and fish are often part of the natural balance of the aquatic environments that I create.
> did you know that there is a fish species that eats mosquitoes and their larvae in my structures?
> did you also know that the products that I use for swimming pools are compatible with swimming standards, as well as with the presence of fish?
> did you know that the bacterial flora found in the natural environment is of major importance for balancing my aquatic structures?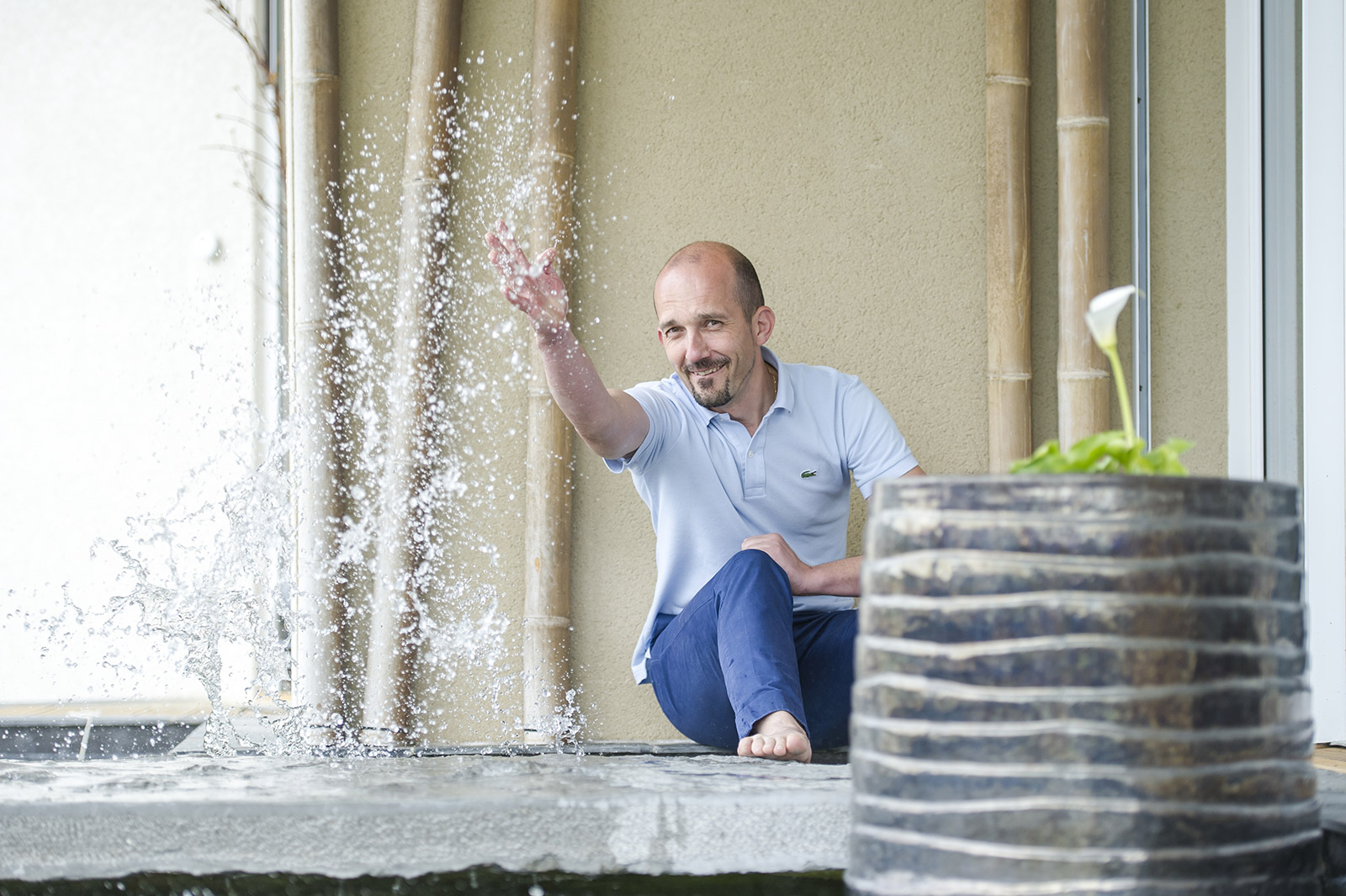 > Water savings and water management
> All my pool, fountain and aquarium creations are managed by automatic filling systems. Water evaporates, but the level is adjusted automatically as soon as possible by a reserve or controlled water production.
> The water discharged from the ponds, which is loaded with sediments, can be reused for the plants and the garden.

> Power savings and management
> the pumps used in my aquarium, pond and swimming-pool projects have motors with adjustable power (asynchronous motor) and thus adjustable power consumption. During the winter, these motors detect the temperature drop and operate in power-saving mode (savings of 20 to 30 %). Life in the pond slows down in the winter for the fish and the microorganisms, and thus requires less activity from the pump.
> the use of LEDs as a light source in fountain projects provides greater light intensity while rationalising power consumption. For seawater aquariums, for example, 250W HQI can now be replaced with 10W LED.

Artistic research and development
> Design research and development of accessories
I strive to bring design and aesthetics to each of my areas of expertise: swimming pools, garden ponds, fountains and aquariums.
I recently created a prototype of a box with a food dispenser for Koi carp, which is designed and shaped like a bird.
This is a touch of originality in the world of ponds, which manufacturers of pond equipment had not thought of.
I can obviously personalise the aesthetics and highlight the design through lighting, for a magical effect at night.

I have also recently developed a unique, artistic light fitting for aquariums. A floating wooden root perfectly suited to the volume and dimensions of the aquarium really highlights its design.
Instead of an aluminium arm hanging over it, this makes your seawater or freshwater aquarium feel more natural, and more aesthetically pleasing.
In the photo, it is equipped with the latest-generation RGB W LED lighting and managed by a smartphone app.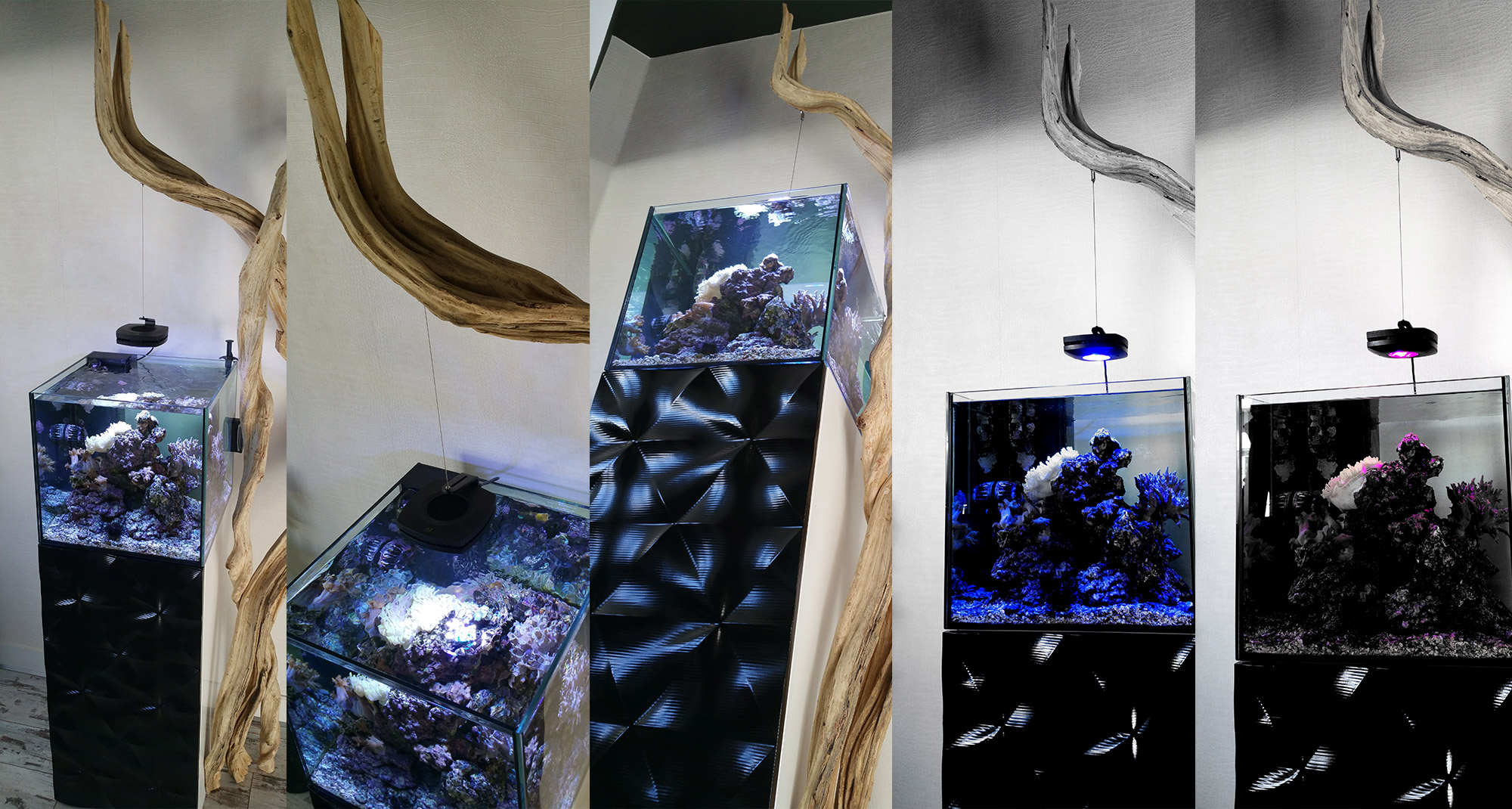 > Lighting, the accent of my aquatic creations
Garden ponds, swimming pools, aquariums and fountains are lit up by a thousand lights in the evening.
In order to use light to elevate our artistic creations, we sought the advice of a firm specialising in lighting, to make sure we were also in balance there, and not to create any areas of shade or glare due to poorly proportioned lighting.
Lighting the body of water for a Koi pond, lighting aquariums, fountains with home-automation or dynamic control and management in show mode are only some of the possibilities.

Sensory research and development
> Therapy of the senses and well-being
The golden ratio is a major area of research in my creations.
This mathematical ratio of the shapes balances the relevance of the elements. The result is a feeling of well-being and serenity.
Very commonly used in architecture, it is the foundation for many of the works of art and buildings that surround us. It can even be found in the simplicity of Mother Nature.
Understanding and mastering this is essential in my projects.
I use the golden ratio to draw the curves of a garden pond or to establish the length ratio of a stream, as well as to harmonise the design and the aesthetics of my fountains.
I play with the visual approach, but also with the auditory perception or the vibrational resonance of the water. It is no accident that we find the sound of water flowing to be relaxing.
This is why I combine the vibration of water with the music transmitted through my fountains. When light is added, the whole contributes to developing that Zen feeling that is so sought after and so beneficial.